About the Crossroads Summit on Rural Intersectionality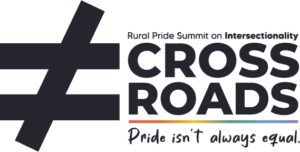 The Crossroads Summit will introduce rural pride organizations in Southwestern Ontario to ways to better their offerings to intersectional communities and why it is their responsibility to lead this work in their rural communities and small towns.
The Crossroads Summit will also allow rural pride organizations in Southwestern Ontario to meet and foster new pride colleagues and friends. These new relationships will hopefully grow and flourish into meaningful support systems for one another.  
The sessions at the summit will include (subject to change): 
Rural Pride Challenges Sharing Circle
Supporting Trans and Gender-Diverse folks in Rural Ontario 
The role of Pride in Combatting Anti-Black Racism
Decolonization and Indigenization of Rural Pride Programming 
The Crossroads Summit will take on Sunday, August 20, 2023 (9am-5pm) at the Arden Park Hotel in Stratford, ON.
The Crossroads Summit is only made possible thanks to a Fierté Canada Pride Micro-Grant funded by WAGE.
Background 
Rural pride organizations are often led by all white and cisgender boards/staff often due to the communities these pride organizations serve being majority white and cisgender themselves. There are extra barriers for racialized individuals when they want to take on a leadership role in their communities such as joining their local Pride organization. 
Due to this make-up of pride organizers and leaders, rural pride is not always equal. This is often due to the understanding and knowledge of intersectionality* being missing in not only rural prides but rural communities as a whole. Furthermore, the understanding of why rural prides need to focus on intersectionality is often missing as many pride organizations have the belief that they are a "2SLGBTQIA+ organization" not a "race" organization.
What is Intersectionality 
Intersectionality is a framework for conceptualizing a person, group of people, or social problem as affected by a number of discriminations and disadvantages. It takes into account people's overlapping identities and experiences in order to understand the complexity of prejudices they face.
In other words, intersectional theory asserts that people are often disadvantaged by multiple sources of oppression: their race, class, gender identity, sexual orientation, religion, and other identity markers. Intersectionality recognizes that identity markers (e.g. "woman" and "black") do not exist independently of each other, and that each informs the others, often creating a complex convergence of oppression.
Join us on August 20 in Stratford!
Participation in the summit is open to pride and 2SLGBTQIA+ organization that serve rural communities small town in Southwestern Ontario. There is no cost to participate in the summit, however there is currently a limit of two attendees per organization. Additional spaces will open up when available. If you're a rural/small town Pride or 2SLGBTQIA+ organization in southwestern Ontario and would like to attend the summit send us an email at stratfordperthpride@gmail.com and we will provide you with the registration link.