June is celebrated as Pride Month worldwide to honour the 2SLGBTQIA+ community and their struggle for equal rights and opportunities. During this month, we come together to recognize the progress made towards achieving equality while highlighting the work that still needs to be done.
Across the globe, millions of individuals, organizations, and businesses show their support for the 2SLGBTQIA+ community by participating in parades, events, and social media campaigns. 
This webpage aims to provide information on the 2023 Pride Month activities happening in Perth County. 
Thank you to our sponsors and partners! ⇣

Pride Flag Raising - Stratford
June 1, 2023 | @ Stratford
Join the City of Stratford as we raise the Pride Flag at City Hall. 

Pride Flag Raising - St. Marys
June 1, 2023 | @ St. Marys
Join the Town of St. Marys as we raise the Pride Flag at Town Hall and display 30 progress pride flag banners in the downtown!

Drag Storytime at the Stratford Library
June 3, 2023 | @ Stratford
Join the Stratford Public Library, Fanfare Books and the SPCC in the Library Auditorium on June 3 at 10:30 for Drag Story Time with Galaxy Rose and Brattery Acid! These two wonderful performers will share favourite children's stories and fun, family-friendly activities that celebrate inclusion, diversity, and self-esteem.
LEARN MORE 

June 4, 2023 | @ Stratford
The Perth County Pride March (formerly the Stratford Pride Parade) will take place on Sunday, June 4, 2023 at 1pm. The walking route will be from the Tom Patterson Theatre to Upper Queen's Park (approx. 1.5 km). All are welcome to join us as we march with pride

Stratford-Perth Pride Festival
June 4, 2023 | @ Stratford
After you've marched in the Perth County Pride March, join us in Upper Queen's Park for Stratford-Perth Pride Festival from 2pm-6pm for music, vendors, food trucks, children's games, and more!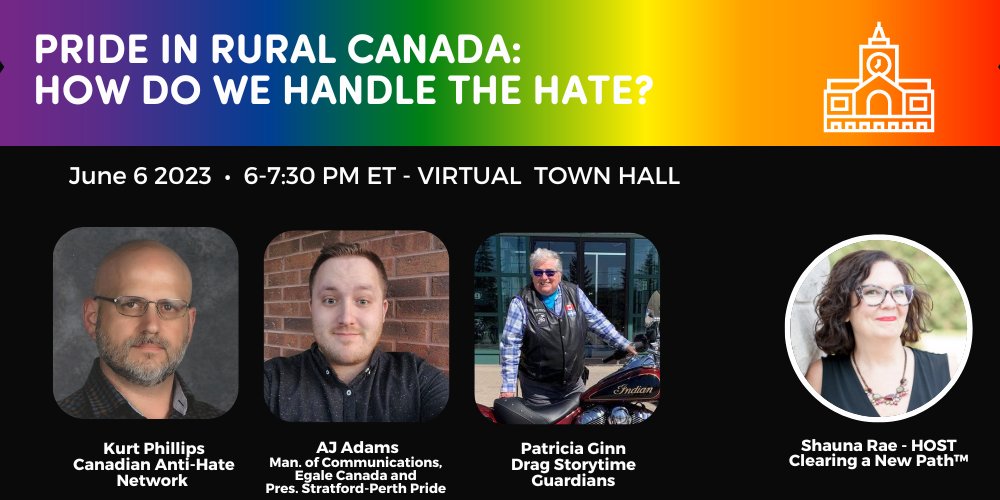 Pride in Rural Canada: Virtual Town Hall
This event is for anyone living in rural Canada wanting to support Pride events and 2SLGBTQAI+ folks in their rural and remote communities.
LEARN MORE 

June 11, 2023 | @ St. Marys
Join Stratford-Perth Pride and St. Mary's Pride for the second annual St. Marys Pride Day! Happening June 11 from 1pm-5pm this will be a family day of pride. Join us for music, kids' activities, and vendors and more. 

June 14, 2023 | @ Stratford
Join Stratford-Perth Pride and the Rotaract Club of Stratford as they host a Pride-themed trivia night with proceeds supporting Rainbow Railroad.

North Perth Family Pride Day
June 17, 2023 | @ Listowel
Join North Pride Pride on June 17 and celebrate pride with free activities the whole family can enjoy. Don't miss out on drag storytime, face painting, crafts, outdoor games, snacks and much more. Join in the fun at Kin Station starting at 3pm.
The Stratford Festival's Meighen Forum opens on June 8 with Pride Week! 
This is a series of events programmed around 2SLGBTQ+ topics, history, and insightful presentations with artists, scholars and speaking guests ready to share their expertise and experiences. Explore all events and plan your week !
Our 2023 Sponsors and Partners!